EX100-50/220C-01, EX150-110/220C-01

EX100-50/220C-01 ААОТ.435131.101
EX150-110/220C-01 ААОТ.435131.106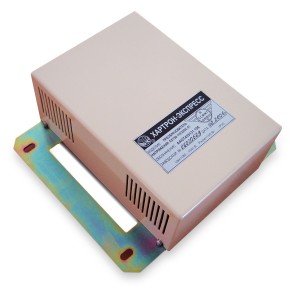 Purpose
To power electric shavers and other loads, the starting power of which does not exceed the maximum permitted value of power output of the converter, in the engine electrical systems of passenger cars.
Provides
Voltage conversion of 50 V or 110 V DC network to 220 ​​V AC (rms) stable voltage with 50 Hz sinusoidal frequency.
Technical characteristics
Input voltage range in DC mains, V:
EX100-50/220C-01: 40...70;
EX150-110/220C-01: 80...150
Output voltage,V, rms: 220 ± 10%
Output voltage frequency, Hz: 50 ± 0,4
Allowable load power, W:
EX100-50/220C-01 up to 150;
EX150-110/220C-01 up to 250
Remote performance monitoring
Built-in protection against:
- overcurrent and output short circuit;
- output overvoltage;
- reduction of input voltage below the permissible value;
- power modules overheating
Overall dimensions, mm: 187 х 128 х 90
Weight, kg: no more than 2,5
Enclosure protection level: IP30 according to GOST 14254-96
There is a Wago connector to hook up to input circuits.
Operating conditions
Climatic version: UHL 3.1 (boreal climate) according to GOST 15150-69
Operating temperature range: -10 ° C... +50 ° C
Remains functional after staying at -40 ° C
Mechanical design: M25 according to GOST 17516.1-90E
Single-acting blows with acceleration to 5 g
The average service life is not less than 20 years
Consumers
Kryukov Railway Car Building Works (Ukraine)
Gomel railway-car repair plant (Belarus)
Southern Railways (Ukraine)
Dnepropetrovsk plant for repair and construction of passenger cars (Ukraine)
Southwestern Railways (Ukraine)
Railway transport PESA (Poland)
The company "Express" Zhmerinka (Ukraine)
Konotop Diesel Train Repair Plant (Ukraine)