Information Boards TI1, TI2

ААОТ.467845.015
ААОТ.467845.015-01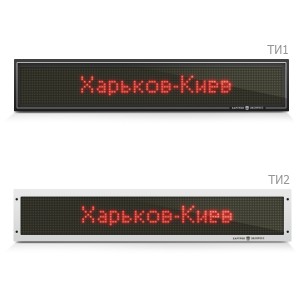 Information Board (TI1)
ААОТ.467845.015
Information Board (TI2)
ААОТ.467845.015-01
LED display
Purpose
To ensure visual display of information in static and dynamic modes ("creeping line").
Information about the speed and position of the train, destination, arrival time, etc., is displayed in static or dynamic modes, can be recorded to the display with the help of a dedicated device or be received from the train master's workstation through RS-485 interface device.
It is installed in a carriage.
Technical characteristics
Input voltage range in DC mains, V: 80 ... 150
Power consumption, W: no more than 15
Visible area, mm: TI1 - 570 х 75; TI2 - 480 х 65
Resolution, points: 120 x 16
Overall dimensions, mm:

TI1 - 594 х 110 х 83;

TI2 - 510 х 84 х 45

Weight, kg:

TI1 - 4,0;

TI2 - 2,5
Enclosure protection level: IP20 according to GOST 14254-96
Wago connectors are used for external circuits installation.
Operating conditions
Climatic version: UHL 3.1 (boreal climate) according to GOST 15150-69
Operating temperature range: -20 ° C... +50 ° C
Remains functional up to - 40 ° C
Mechanical design: M25 according to GOST 17516.1-90E
Single-acting blows with acceleration to 5 g
The average service life is not less than 28 years
Consumers
Kryukov Railway Car Building Works (Ukraine)
Gomel railway-car repair plant (Belarus)
Southern Railway (Ukraine)
Southwestern Railway (Ukraine)